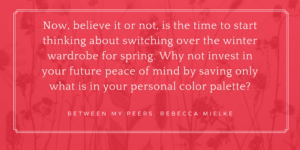 If I only get one thing done in my wardrobe this month, this will be it: put away the winter stuff and pull out spring. Am I the only one who starts craving green clothes this time of year? Even though I am not seeing alot of green outside –  yet! –  spring is on its way.  It's inevitable! 😎
Today I am wearing my long sleeve cashmere turtleneck for the last time this season. After this, I will wash it and let it dry, then pack it away for the season.  Or maybe not. This year, I invite you to join me in adding a step to the process, not even a step really, just a question:
Does this garment fit within my signature style color space?
If it doesn't, this is the least painful time to make that decision! We have months to find a replacement for the item before risking nakedness, months of not having to store the thing only to have it potentially ruined by moths or mildew, months of letting it be enjoyed by someone for whom it is better suited. 🙂
Want help defining your signature style color space? I do that!