Are you an accessories person? In my Essential Series of style services, I offer a Facial Themes Analysis to help with selecting accessories and defining the best prints. This image consulting service is available via email to clients in Spokane and around the world.
But you might be wondering, "What is a Facial Themes Analysis"? That's reasonable. Using a photograph, I trace your face and then look for patterns.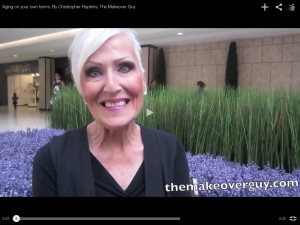 . Repeating those patterns in your accessories will enhance your natural beauty. I also identify the scale of your features, and other artistic elements relating to necklines, accessories, and prints.
In this photo, shamelessly lifted from YouTube, you see a beautiful woman enhancing the triangle shapes in her face (see her lower eyelid?) with her v-neckline and her side bangs. Analyzing your face for line and shape is difficult, but ever-so-valuable in selecting the details you wear near it.