Now that I have completed my training as a Personal Stylist, I'd like to put up some posts explaining what it is I do. Spokane readers can reach me at rebecca@betweenmypeers.com to inquire about Color Analysis and Closet Consultations. Most other services are available via email.
About Color Analysis: The system I use has 16 palettes based on temperature, value, and resonance. From those 16 palettes, I can add or subtract individual sticks to create a completely custom color harmony. Your unique palette supports your coloring and your personality.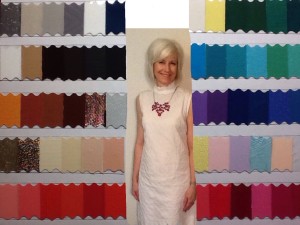 Here is mine, a mix of warm and cool, plenty of light color values and a few darks, primarily tinted and saturated, straightforward hues.
I realize Color Analysis is a complicated and somewhat controversial topic. I not here to disparage any other system; I just love this one! Fine print: the swatches are custom-made to order, so there is delivery time, and I have you do a little bit of homework ahead of time. 🙂