I don't know how many of us here at the bottom of the fashion food chain go for cosmetic dentistry, although I certainly considered it when I had my dental nightmare. Since going off fluoride altogether a year ago, my teeth have stabilized at the not-bad yellowish-white pictured on the left here. I am pretty content.
However, I do notice what the people around me look like and, consequently, wonder about teeth whitening from time to time. I have gone so far as to buy a kit of whitening strips, but then I was afraid to use them because of my tooth sensitivity. When Smile Brilliant offered me the opportunity to review their affordable, at-home, LED whitening system, I went for it. The picture on the right is after three weeks of two x week use (it can be used more frequently but I have a show which opens this Friday).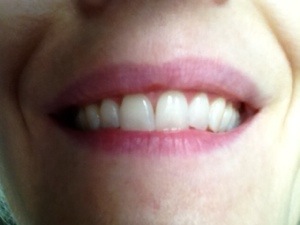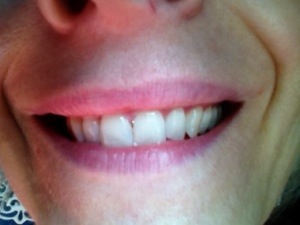 Comments:
I ordered the desensitizing gel, but I did not use it for fear of fluoride; I did not experience ANY discomfort in using the whitening process.
It is easy and convenient. I just put the whitener on, stuck the guard and the light in, set a timer, and sat down to do my blogging.
I let my daughter try it too and she noticed whiter teeth in a single application.
Smile Brilliant is offering a giveaway of an LED Whitening Kit like the one I am using.
To enter:
"Like" Smile Brilliant on Facebook
"Follow" Smile Brilliant on Twitter
"Follow" Smile Brilliant on Instagram
#1 Smile Brilliant on Google Plus
Subscribe to Smile Brilliant Promotions
Good luck and happy smiling!