Lol. I thought I had biffed this dress, which I have had forever, because it always seemed a little too open (to cover the "straps") in the neckline. Lo and behold, I found it in my studio, buried in a tub of personal "some day" projects. When faced with the decision of what to wear to a spring funeral, it was this short-sleeved, green, silk-blend sweater dress or a suit. And the neckline lay perfectly!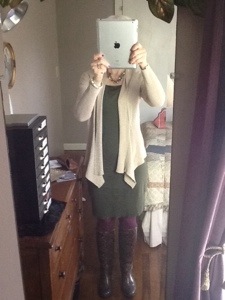 The weather went back and forth, so I threw on this fabulously flattering, casually comfortable, astonishingly affordable sweater ($15 at either Ross, TJMaxx, or Marshall's, can't remember which). My rain boots seemed appropriate for going to the graveside, and they coordinate so my trench and rain hat.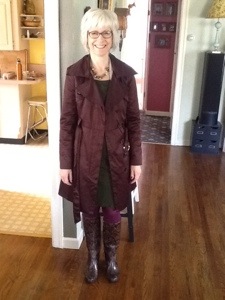 At the graveside, I overheard a bit of conversation between some of the well-dressed women:
dressbarn!
Buy 2 save $10 on Dresses – Use Code DRESS14 (misses landing page)