The standard Closet Clean-out for a Woman in her '30s, at Wardrobe Oxygen,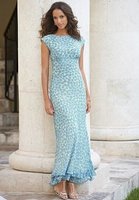 promises to "improve your reputation at work, your chances at finding a mate, and will actually make you look younger and more confident."
Aimed at the woman entering her 30s, who may even need to do her first major post-university closet purge, this is a fabulous post, and funny. But the question which has come up here is this:
Can a 40-year-old with a well-developed personal sense of style still wear the Church dress, Laura Ingalls Wilder dress, granny dress, prairie dress, or, "I give up dress" without looking hopelessly dated?
I confess, I think the pictured dress looks good.