When is a look enough? When is it too much? After posting about the 16 12 point accessory "rule", I got feedback from people who, like me, feel that is alot. I also feel like there is too much structure to these "rules". What about creativity? Finally, there is the concept of personality within personal style idiom: some of us prefer to have our clothes carry the interest, rather than our accessories.
Save 20% on select Heels and Flats, valid 4/6-4/19
Sale on select Jewelry for Spring, valid 4/6-5/10
In the picture below, the pieces are strikingly simple. All together, the look is relatively complex, very interesting, and appropriate for an evening of Van Gogh and Merlot. In the high fashion jewelry business professionally, the girl pictured nevertheless chose to accessorize with only one extra ring and pair of earrings.
Her count:
– 2 garments and 1 pair of shoes = 3
– 3 accessories
– around her face: stylish, purple/auburn hair; beauty makeup; a crystal dermal piercing.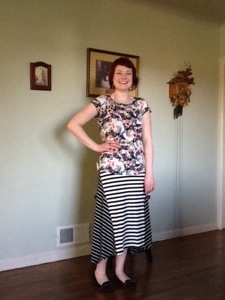 Without counting any of the interesting details in her clothes, this outfit would be a 9; adding an extra color, as per the previously-mentioned system, brings the total to 10 for this outfit. I suggest it should be higher.
I would add a point for each print (3) and a point for the studs on the shoes.
The takeaway: evaluate your entire look for points of interest.