By Satinder Haer (Guest blogger via Zillow)
A lavish dressing room can make getting ready in the morning a whole new experience. But who has the space or money for a whole room dedicated to getting ready?
Luckily, you can create a dressing room without buying a bigger house or breaking the bank. Closets often have untapped real estate you can transform into a minidressing room.With a little creativity and organization, you can create a do-it-yourself pampering spot that makes you feel like royalty every morning—right in your own closet.
If you're craving a little extravagance in your morning routine, use these tips to design your own minidressing room.
Make Space
Vanities are the foundation piece of a traditional dressing room,so you'll need to carve out space for a vanity or cheaper alternative, such as a desk or dresser. If your home came with walk-in closets and you have free space, you might not have to make additional room. If not, look at your closet and assess:
• What can I get rid of? Free space is often consumed by items you hold on to, but don't need.
• Should all of these items be in my closet? Consider moving clothing that doesn't need to be on hangers to a freestanding wardrobe or dresser. Or, box up seasonal clothes and move them to the attic.
• What size desk can I fit in here? Take measurements if it's going to be a tight spot.
Once you've created enough space, find a bedroom vanity, desk or dresser that with counter-top space for storing your jewelry and makeup including drawers for storage.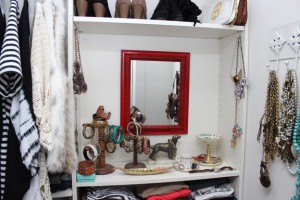 Photos by The White Buffalo Styling Company via Zillow
Design Your Space
After you've acquired the main piece for your dressing room, think about your design. Whether you want the space to have an eclectic theme or a contemporary vibe, you can buy supplemental decor pieces that suit your style. At a minimum, you'll need a mirror, a source of bright lighting and a stool or bench to sit on while you apply makeup or consider your outfit options. If you want to make your minidressing room feel extravagant, add a rug, floor lamp and art in the same theme.
Assemble Your Space
Focus on form and function when assembling your minidressing room. Place your big-ticket items, such as your vanity and mirror in their respective places. Then add any sources of light you're using to supplement overhead lighting in a location that is conducive to makeup application. Place daily beauty products on your counter for ease of access and stash the rest in drawers.
Jewelry can also double as décor, so don't be afraid to leave it out in the open. Separate your jewelry by type—necklaces, bracelets, etc.—to make items easy to find and display. Hang necklaces and bracelets on a free standing necklace holder or on wall hooks. Use small bowls for rings and earrings.
Finish your project with any accents you think polish the look. Hang wall art or display picture frames on your vanity. Add small potted plants or figurines on free-floating shelves to embellish your space.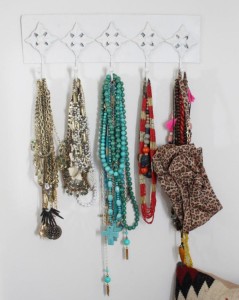 Photos by The White Buffalo Styling Company via Zillow
A minidressing room can be an inexpensive and essential addition to your existing space. It can save you time in the mornings by centralizing the items you use to get ready and serve as a beautiful spot for pampering yourself. Getting ready might be so relaxing you never want to leave your closet.