Before considering how to mix prints, it is a good idea to examine whether you should mix prints. Is the idea exciting to you?
IMO, or perhaps I should say IMP (in my philosophy), style choices are driven by both external and internal indicators. In the case of wearing multiple prints together: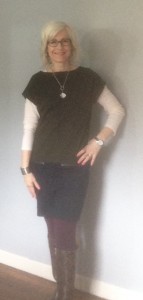 External indicators: your appearance has alot of visual pattern (patterned smoothness), such as streaked hair and/or freckles. Sometimes texture, such as curly hair, gives an impression of pattern, as well.
Internal indicators: a high-energy personality. Putting things together in less-expected ways is also indicative of a creative approach to life that can be supported by mixing patterns.
In the matter of the first, I do not qualify. Color-blocking (as seen here) works. Most anyone can wear one well-chosen pattern at a time. But my freckles are nearly gone and my hair is almost, but not quite, uniformly white. HOWEVER, I still feel more comfortable mixing prints than not. So I might do it 😉
Of all the technical aspects involved in styling, print-mixing is one of the only ones that comes somewhat naturally to me; therefore, it is more challenging for me to to explain the how. I refer you to such experts as Lauren Conrad, Tory Burch, and Clinton Kelly.
Do you like to mix prints?