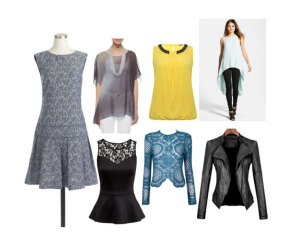 Another of the basic body shape elements is the arc waist. Basically, like the cinch waist, the arc waist is smaller than hips and shoulders; unlike the cinch waist, the arc waist continues in – ahem – an arc from below the arm to the top of the leg.
Personally, until I understood this, I was very self-conscious about my thighs. When you understand your body type, it becomes just a body – not a collection of features that cause off-the-rack clothes to look bad. 😉
The hip shape that goes with the arc waist is called a low hip, meaning that the widest part is the top of the thigh. Styles that are fitted through the midsection and flare below the hips are natural for this body type.