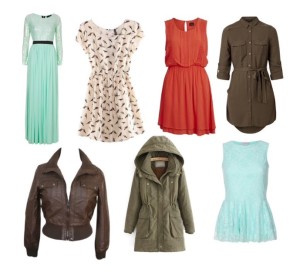 When defining a body type and the styles which harmonize, I will sometimes use the term "cinch waist". Anatomically, what I mean is a body featuring a waist nipped in above a high hip shelf, the high hip appearing wider than the low hip/upper thigh.
A cinch waist is flattered by, among other things, garments which are – ahem – cinched at the waist. The high hip accompanying the cinch waist wears narrow skirts and trousers beautifully.
To illustrate, I built you this Polyvore.
And here's a special Earth Day offer: Get addl. 20% OFF to celebrate Earth Day. Buying used is green! Save on all your favorite brands like Lululemon, Free People, Anthropologie. Offer ends 04/22/2015.