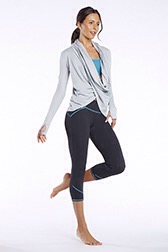 Full disclosure: I am not affiliated with Fabletics, although I think I can put a link here that would give me a referral fee.
This is another tip from the locker room. Well, not technically from the locker room, but the actual exercise studio. One of my co-sweaters (an inverted triangle with a high hip) was wearing this really cool top that created an X at her waist in the back. It was so flattering! That is how I learned about Fabletics, the subscription site for quality athletic wear, (Kate Hudson, founder). Before I even went to the site, I was ready to sign up; because if I buy the clothes, I will look like Kate Hudson when I'm exercising, right? 😉
Seriously, folks, it is the ease and affordability, the automation factor, if you will, that appeals to me.
How it works:
For as little as $25, you can get your first complete outfit when you become a member (mine was $35). There's a little quiz that's actually building your profile, then they give you recommendations. Unfortunately, the quiz isn't detailed enough to for everyone to receive recommendations as spectacular and specific as my friend did; I still needed to know what works with my silhouette and proportions. And be warned: once you go through the quiz, the clock starts ticking and you have one hour to shop and join. I don't know that failing to finish in the allotted time precludes joining later; I just would have done the quiz after looking around rather than first if I had known.
Here's where the automation comes in (the fine print):
Shop Your Outfits – On the 1st of each month, we'll send you outfits selected just for you and your workouts. Complete outfits start at just $49.95 for VIP Members, a savings of up to 40%.
Buy or Skip – Purchase the outfits you love, or if nothing catches your eye, simply skip the month by the 5th.
Accrue a Credit – If you don't make a purchase or skip the month by the 5th, you'll be charged $49.95 for 1 member credit on the 6th. Each member credit can be redeemed for 1 outfit — use it to shop anytime.
Honestly, exercise clothes are a great candidate for automation: they are less complicated to fit, they need to be replaced more often, and I just don't want to have to put alot of creative effort into being appropriately dressed at the gym. (But I do try to be well-dressed everywhere I go.) I don't plan on buying every month (nor does anyone else I talked to), but at these prices I could see getting a new outfit once every two or three months.
I hear the quality is good. When I experience it for myself, I will confirm. Btw, there are a ton of reviews on the Fabletics site, so I have a feeling I am a little bit behind on this one.