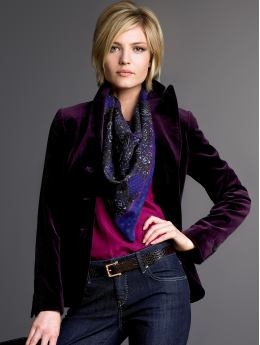 We talked about this haircut back in 2008 and it actually looks alot like what the front of my hair looks like now, although my bangs haven't grown all the way out yet. And my glasses and my hair seem to be getting along okay 😉
If only I still had the velvet paisley blazer!
Lots of good scarf comments on this post, too. It is interesting that, after all these years, I still like this look and feel the same about it – except that now I am willing to try the sideswept bangs (with Carla's encouragement.
Oh, and, btw, I have completed a first draft of a style essence calculator based on existing personality profilers! 🙂
From the top.  Hair:
Presently, I'm okay with my hair.
This haircut – without the turned under, uniform smoothness of the other – suits me better, both style idiom and hair texture.
Here's the problem:  hanging across my face, hair would goo up my glasses.  Yet Christopher Hopkins would say that asking for this haircut but with bangs is like asking for chocolate chip cookies but without chocolate chips.   (I don't think my stylist would mind doing it.)
Comments on how this haircut would suit me?
Next:  If I were to wear a scarf, unlikely as that is, this application is one I would consider. Thoughts from you accessory people?
Finally, twenty years ago, when I had a fashion retail career, I considered myself a "pink suit". Daily I wore suits. But they were feminine and colorful, not mannish. Now I am finding myself with a strong preference for velvet blazers. Currently in rotation: blush pink, brown paisley, and grape.  My favorite way to wear them is with white oxford button-front shirt, collar flying.
So, all in all, this post was just an excuse for running the photo, which captures the stylistic essence of my personal idiom (me on the inside), everyday-wear.  Now, I'm off to the studio.  In a little over a week, I have the final for my beginning watercolor class.  I need all the practice I can get.