This post is full of affiliate links!
I have had the same pair of prescription sunglasses since before digital photography. Ok, not really, but I have had them for a really long time – so long that I cannot find the receipt – probably over ten years. They are (were) the most comfortable glasses I have ever worn and I got them during a brief moment in our family's financial history when we had vision coverage. Typically, my eyewear strategy has been to carefully choose a look that is practical and fashion-forward, without being trendy, and wear them for as long as possible (usually four or five years).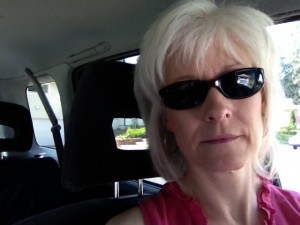 So, the frames were starting to show wear (have chips) and I knew eventually I would need new, but I wasn't in any hurry. Until one day, in a momentary lapse of care, I hooked them on the front of my shirt and leaned across a high counter. And felt them break 🙁
(Last year when I got my drivers license renewed I was able to pass the eye exam, so I don't strictly have to wear prescription glasses.)
First things first: I went straight to Kohl's (ONLINE EXCLUSIVE: Extra 20% off All clearance apparel for women, men and kids with code CLEARANCE20. 6/17-6/18
) and bought a pair of fashion sunnies. But then I wondered whether, since I had a very classic pair of RayBans, I could just find a replacement frame. Unfortunately the model had been discontinued.
Then I thought: eBay
! And it worked. I saved a search and after a week or two, for the same price as a pair of department store sunglasses (about $20), I got a pair of sunglasses in the mail that look identical to the ones I broke. Unless I put them on, in which case I can't see anything 😉
Update: sadly, the eBay frames were beveled for glass lenses and I had plastics. Or maybe it was the other way around. At any rate, the technician tried and was unable to rebuild my glasses. Now (7/10/2017) I have been wearing the cheap sunglasses from Kohls for three years, but that season is coming to an end! Today I ordered my new prescription sunglasses from Warby Parker. Shop Warby Parker's Summer Collection Here!