Based on my schedule for the summer, this is what my pie chart looks like: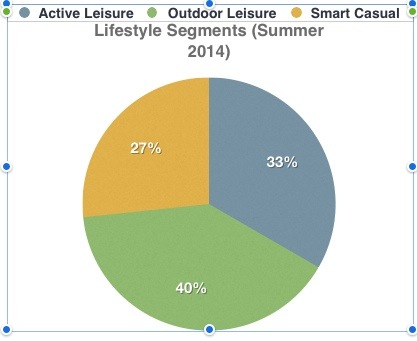 … But it isn't that simple.
Realistically, I live in each of these categories for some portion of each and every weekday. (I am using a list method, rather than pie chart, for planning the remaining categories: business and social.) To further complicate matters, Active Leisure and Smart Casual nearly always appear in quickchange or "simultaneously both" configuration. Designing is next week!
Summer Style Survival Guide – 10 Chic Clothing Essentials at Macys.com! Offer Valid 5.27 – 8.2
In the meantime, I discovered a surprise in performing this analysis: I have basically no use for sporty casual looks (as in, jeans and tee-shirt) in my lifestyle. That segment used to be my "just get dressed"; habitually, I still think that way. Borrowing a theater strategy, I am going to hang my outfits together in the closet to kick the habit of opening the drawer everyday to find separates to coordinate.
In addition to analyzing my lifestyle this week, I have been biffing through my closet in preparation for this weekend's clothing exchange (between my peers party). If it doesn't accurately portray my character and support my action, it has to go!