How long did your New Years Resolutions last? This year I resolved not to buy items with features I actively dislike, and named among these hoods. I made it to April 😉
But then, in the course of thrifting for the show I am currently costuming, I found a NWT, mid-weight cotton, fitted, long-ish zip hood, in a horizontal stripe (a pattern I am not super fond of). But the colors! Coral/white at the top, coral/yellow, then coral/orange at the bottom. For $4.99. Thinking if I absolutely hate the hood I will just hack it off find a youtube tutorial on taking it off, I am reasonably certain I can get my 20 wears out of it, most likely before fall.
Private Sale at PUMA! Up to 75% off! Valid 4/30 – 5/1.

Here I am, heading out for a quick grocery run: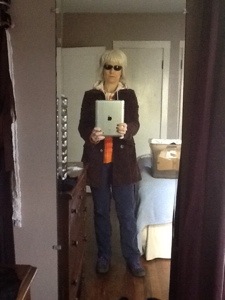 Wearing a hoodie under a collared coat feels like me. 🙂