My Facebook friend and one time reader of this blog, Bonnie, was recently looking for input on what to wear to interview for a teaching position. Most said Business Casual. Technically that is correct, but the examples given were mainly along the lines of "skirt or pants and blouse"; that strikes me as kinda boring.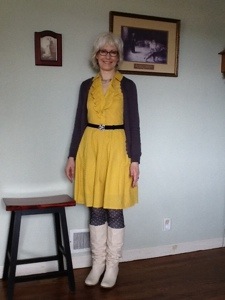 For whatever reason, I mentioned the question to my daughter, who was helping me out by taking this photo; more about that later. She made the brilliant statement:
for early elementary, teachers dress in Business Playful.
In her memory, elementary school teachers typically included an element of fun in their look:
brightly-colored necklace,
seasonal embellishments,
patterned stockings (the ones I am wearing are polka dot).
The Great Shoe Sale! Extra 30% off when you buy 3 or more pairs at macys.com! Offer valid 4/2-4/20
Btw, this is another attempt on my part to wear last summer's MoB dress with sweater and tights, this one more successful. Why? Two reasons:
The fabrics are more harmonious in weight and
The color combination is more harmonious with me.