In light of my recent "old" trauma (stealth pun?), I did a little research into how it is we humans so quickly assess what kind of a person we are seeing. Among the various models I found of recognition, I think feature-matching is most often employed.
Feature-matching: search for simple but characteristic features.
Undoubtedly, gray hair is a simple but characteristic feature of the elderly. What is important is styling. Unstyled hair can be very pretty; but unstyled gray hair presents a very different archetype from unstyled hair in any other color. (Actually, harsh black-dyed hair has a similar effect to gray, IMO.)
New from Rockport. Cool mesh sneakers, now at NORDSTROM. Plus, get free shiping and returns on every order.
It is not easy for me to want to make certain my hair is styled everyday, but I need to in order to feel like myself.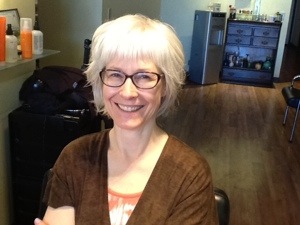 me, after my hair appointment today
So it made me think, "what are other simple but characteristic features?"
Perhaps this is where the importance of shoes to idiom comes in.