What I have called "everyday leisure", Jennifer and drwende have aptly renamed "just get dressed".  How many days out of the week does that describe your wardrobe needs?  And what activities might those days include?
For me, "just get dressed" (for which I have the option, in my geographic region, of wearing "outdoor leisure" or "everyday leisure") encompasses most of my Mondays and Tuesdays, and approximately half of my Fridays, Saturdays, and Sundays.  Maybe more.  On any given day I could be cooking, picking up after the dog, grocery or thrift store shopping, walking for exercise, or … ?  And what's easy for me to forget is I am always representing my own level of fashion authority.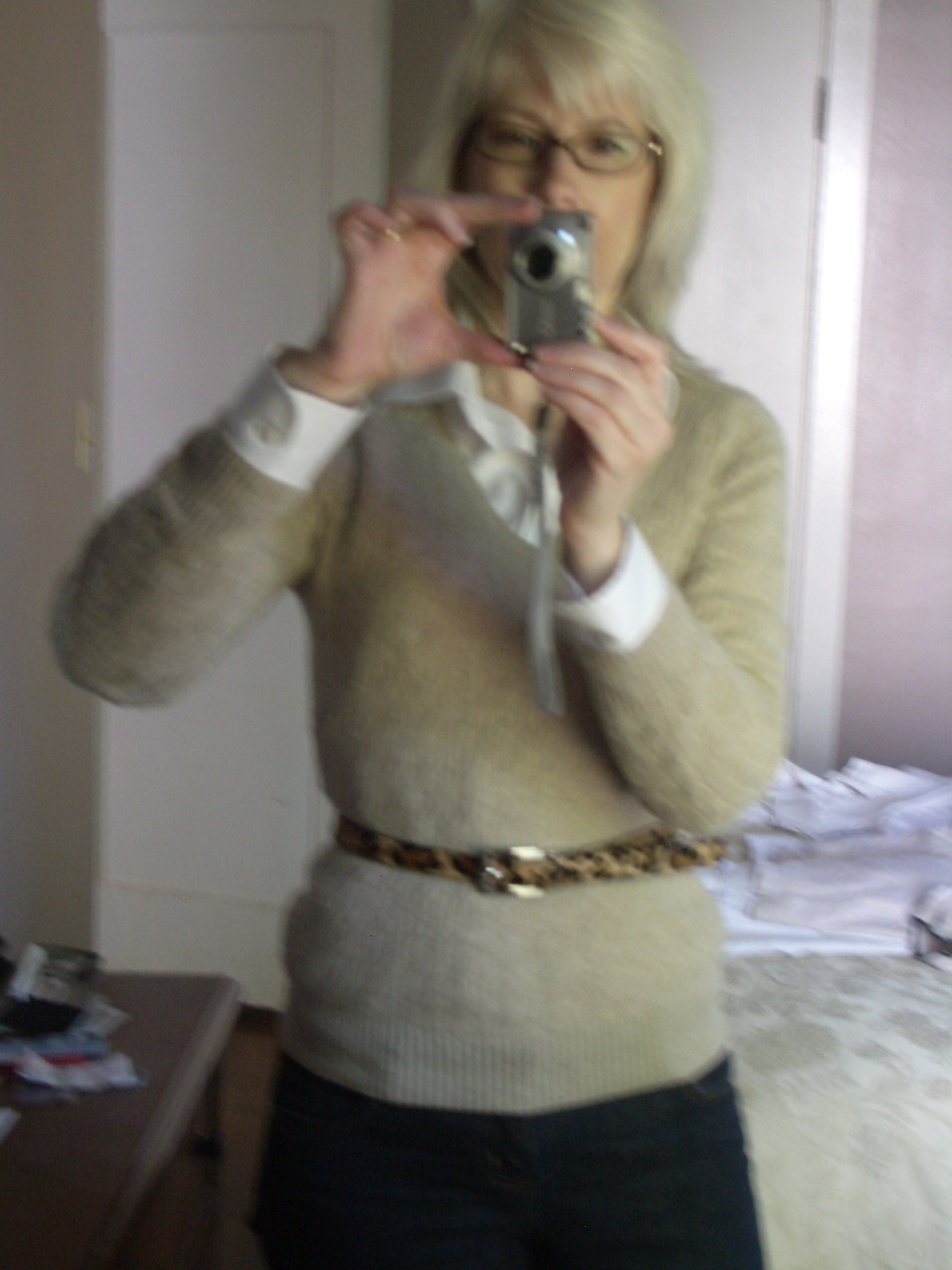 Here's what I'm wearing today.
old black "bowling shoe" style flats, resurrected because they are comfortable and they blend with my jeans (too old for the cost of them to signify, they were moderately priced, purchased on sale at JCPenney)
dark skinny jeans ($15, Shopko clearance)
white oxford button-front shirt, which – due to the fantastic flying collar and the perfectly placed darts- is becoming such a favorite that if I can find another I will be willing to pay real money for it (hand-me-over-for-$1 from a daughter, originally Costco's Lady Hathaway brand)
v-neck, cable-knit, cashmere sweater in oatmeal heather ($15, TJMaxx).  Worn with the white shirt this illustrates the question I asked Imogen on her post "How to Choose Your Perfect White".
reversible belt, worn animal print side ($5 clearance from Wilsons leather), held in place by lingerie straps pinned onto the side seams of the sweater.  he hee. 
Since I'm an accessory retard, please tell me if this belt works.  I know one thing:  if I had added a necklace to this outfit, one or the other (belt or necklace) would have had to go.