Dana writes:
okay, so our new, fab house is almost complete and we're moving in around the first weekend in October (give or take – more likely give- a week).

My closet is/will be a smallish walk-in shared with my hero. Hero has a fair amount of clothing and is one of those types who prefer not to have the hangers all smashed in together, smushing his duds.

What I am getting around to – oh so slowly – is a plea for assistance and resources for free closet planning. I know we'll need to maximize our layout to make it work and we have high ceilings, so we can do an extra high layer of hanging stuff to make it possible to keep even the "off season" in the closet year-round…. Ideas, oh smart and hip readers of Bex super blog?
and
Things you might like to know when giving advice on this – the shape is square with one angled corner where the entry is – and that is a "no door" arched opening. the closet is wedged into one corner of the bathroom – I rise much earlier than the rest of the fam, so I will be able to get up, enter bath, close door to bedroom and stay there until I am ready for the day. You may not need to know that, but the idea excites me….
Thinking about Dana's request for closet maximization and free closet planning info has run me right into a familiar dilemma: I think I need to write something resembling the many magazine and newspaper articles I have read over the years, and yet that seems so predictable. This is, after all, a blog. If we can't exchange unexpected or off-beat ideas here, what's the point?
So here's more of my own thinking concerning closet organization: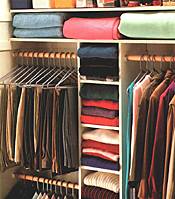 In a previous home, my hero built a closet organizer something like this in a standard, American 70's style, double sliding-door type closet (Black & Decker online plan for this one). The slick feature? Behind the shelves: a secret compartment!

Beth wondered about sweater storage, now that all my social, business, and casual clothes will be in my closet. Ideally one's closet would feature shelves. Mine has one, so here's my plan: I am going to fold my better sweaters, put them in shirt boxes, and stack the boxes on the one existing shelf. A stack of boxes is much tidier than a stack of sweaters!
Since Dana will be able to go into the closet and stay there until she's ready to leave, she will want everything in there. In the picture of my closet you may be able to see that I have one of those plastic pocket things secured (by T-pins) to the back wall. It houses my unmentionables. Alternatively, my daughter stores hers on a shelf in her closet, in pretty picture boxes.
One final thought: recently I've been taking a fresh look at some other areas of my house and come to a conclusion. Rather than go out and buy furniture or storage equipment or simply plan a project on paper, first I am going to find a way to take my ideas for a test drive. If I want to store books along a certain wall, I may put them in boxes and move them there before buying a bookshelf; if I think I want to tear out a wall in the kitchen, I had better see if I can live without that storage first.
So, Dana, perhaps rather than starting with your new empty closet, you could measure your things the way you'd like to store them:
How many feet of full-height hanging?
How many feet of double height hanging?
How many stacks on shelves?
How do you like to store your shoes? Many people recommend boxed.
What else do you need in there? Accessories, unmentionables, a chair?
I hope that's helpful. And readers, please, give us your best closet planning tips.
Linkage: