I'm telling you, the Armani thing scared me! Some of the suits were lovely, but how wearable is something with only one (long) sleeve?

Try this fun project: take a picture of your face and split it in half vertically. Mirror image each half of your face to complete the picture. In other words, make a face that is just what the left side of your face looks like, and another one that is just your right. How different do they look?
Who wears asymmetry:
a) One who is going for a high fashion, high drama look.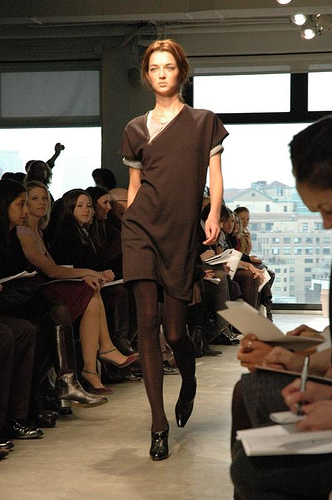 Yigal Azrouel
b) One with a greater than usual degree of physical asymmetry.
Twinkle
Or
c) The fashion victim. Aka foo.
For those of us with a somewhat classic style and fairly regular features, the risk of looking like we've been had is just too great. Other than possibly evening wear, how about we just sit this one out?
Photos via Coutorture, courtesy of ShopStyle.